Don't just plan for success;
plan with success in mind.
Start now with 5 FREE hours
Don't just plan for success;
plan with success in mind.
Start now with
5 FREE hours
World-class experience at an affordable rate.
Partnering with AVirtual gives you access to a top tier talent pool with global business experience.

How it works
Get started with a new team member in as little as  24 hours.
Tell us what problems need solving.
We'll take our time to really
understand your needs and craft a
bespoke talent solution.
Get  matched with a member of our
team that has the right skills and
experience to support you.
Start working with your new team
member in as little as 24 hours, on a
monthly subscription basis, with tons
of ongoing support to guarantee a
successful outcome.
Enjoy stress-free, cost-effective
productivity!
Efficiency starts from just £12 per hour
"*" indicates required fields
We carefully curate our team
All our staff are heavily vetted and are full time employees, rather than freelancers. As well as hiring the best, we also  invest in continued learning, ensuring your team member is up to speed with the latest tools and trends.
We're based in Cape Town
Thanks to Cape Town's tech and entrepreneur friendly ecosystem, we're able to offer industry-leading talent at a fraction of the cost. Our specialists are highly educated, native English speakers with international experience and are just 1 or 2 hours ahead of GMT.
We like to keep things flexible
We know your needs will change which is why we partner on a flexible subscription model. Flexible upgrade and downgrade options will meet your scaling requirements and with each subscription you get access to the wider team, allowing you to tailor your talent to solve your issues of the day.
We're your  growth partner, with a personal touch
When you become a client, we invest fully in your personal and business success. At its core, it's this personal dedication and care for your growth that makes us different from the rest.
The AVirtual story
For over 8 years we've been helping clients large and small complete projects, build businesses, increase efficiency and save money.
Founded
in 2015
2000+ clients across
the UK, US & Europe
Google rating
of 4.9 *
Award-winning Virtual
Assistance
Don't just plan for success;
plan with success in mind.
Start now with 5 FREE hours
Don't just plan for success;
plan with success in mind.
Start now with
5 FREE hours
Our clients' success stories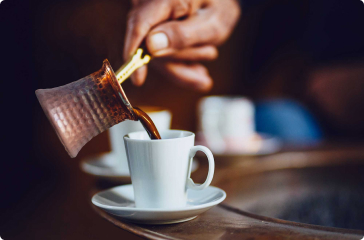 Social media management
OZERLAT COFFEE COMPANY
Cyprus' oldest Turkish coffee company needed assistance breaking into the UK market, increasing their online traffic, sales, and social media presence.
Instagram received 22% increase in organic followers, 364% increase in engagement through the total reach and impressions. There was an 89% increase in website landing page views via Instagram and 82% increase in online sales, growing from 5 to 28 sales a month.
Web optimisation and SEO
BIG BEARS TOY BOX
Kids' toys ecommerce company Big Bears Toy Box needed support in increasing the number of leads and enquiries through their website. This was done through a web rebrand and SEO.
The company found a 14% increase in sales and were better able to remarket to customers with incomplete checkouts. Organic search increased 26.4%, Semrush Authority Score increased 50% and 83.8% of visitors to the site were new. Also streamlined was the stock management system.
Copywriting and content strategy
GLOBAL VISION INTERNATIONAL
Education travel company GVI
was unsuccessfully using several freelancers and needed help streamlining their content and messaging.
Social reach grew 208% within the first 3 months and organic website traffic grew 45% over 4 months. Direct traffic grew 38% over 3 months and website conversion rate increased 21%. Overall growth in new clients saw an average increase of 27% achieving an overall ROI of 128%.
Efficiency starts from
just £12 per hour
Chat to one of our advisors for a free consultation – no strings attached.
"*" indicates required fields