Web development services
Our wide range of SME web development services include:
WordPress sites
Creating optimised WordPress sites that can be easily managed by you or one of our web administrators.
Shopify sites
Building attractive e-commerce sites on Shopify that online shoppers will love.
Tracking & analytics
Setting up any important tracking, analytics and heat-mapping that you wish to make use of.
Project management
Managing any size of build & ensuring that your website goes live within your desired timeframe.
HTML sites
Designing and building custom coded HTML sites to meet your exact requirements.
Mobile & desktop
Building responsive websites that are optimised for use on all devices, from mobile to desktop.
Frequently asked questions
A peek into our portfolio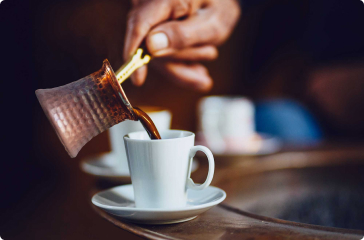 Social media management
OZERLAT COFFEE COMPANY
Cyprus' oldest Turkish coffee company needed assistance breaking into the UK market, increasing their online traffic, sales, and social media presence.
Instagram received 22% increase in organic followers, 364% increase in engagement through the total reach and impressions. There was an 89% increase in website landing page views via Instagram and 82% increase in online sales, growing from 5 to 28 sales a month.
Web optimisation and SEO
BIG BEARS TOY BOX
Kids' toys ecommerce company Big Bears Toy Box needed support in increasing the number of leads and enquiries through their website. This was done through a web rebrand and SEO.
The company found a 14% increase in sales and were better able to remarket to customers with incomplete checkouts. Organic search increased 26.4%, Semrush Authority Score increased 50% and 83.8% of visitors to the site were new. Also streamlined was the stock management system.
Copywriting and content strategy
GLOBAL VISION INTERNATIONAL
Education travel company GVI
was unsuccessfully using several freelancers and needed help streamlining their content and messaging.
Social reach grew 208% within the first 3 months and organic website traffic grew 45% over 4 months. Direct traffic grew 38% over 3 months and website conversion rate increased 21%. Overall growth in new clients saw an average increase of 27% achieving an overall ROI of 128%.
With over 14 years of experience as a web developer, Johan heads up our web development team. He has worked closely with all kinds of stakeholders during the development process to deliver websites with user-friendly design and optimal functionality. He also lends his expertise to our web optimisation team.
What you get when you match with Johan
as your Web Developer Extraordinaire:
WordPress

eCommerce

Search Engine Optimisation

PHP, HTML, CSS

MySQL

Java
"I am an ambitious
Full Stack Developer
with the ability to organise
and present complex
solutions."
Is one person not enough?
Build your own marketing team today
Our model was made to be flexible, so whether you are looking to find your one perfect match to assist in your digital marketing efforts, or perhaps you want to grow your own outsourced marketing team – we can help you.
Our passion for SMEs has inspired us to develop a solution that empowers growing businesses. We offer a unique outsourcing model that allows your business to access a variety of necessary skills, without any of the hassles of traditional recruitment.
By using our hybrid outsourcing model, you'll get the resources you need while still having maximum business agility. If you would like to build your own marketing team while keeping your overheads low and options flexible – let us start introducing you to the right people.
We have very high standards for everyone that we hire. Your new remote employee will be no exception!
Marketing excellence from just
£12 per hour
"*" indicates required fields
All services offer the freedom and flexibility to cancel anytime.
No questions asked.