Hiring a virtual assistant can be life-changing for your small business. Not only do they save precious time by taking care of mundane, monotonous tasks, but they also help you achieve a better work-life balance. When last did you switch off and focus on something outside of work? But the truth is that there are so many VA's out there, and some of them aren't native English speakers. So, how do you hire the right virtual assistant for the job? We're here to guide you through it because hiring the wrong one could end up being a waste of precious resources.
The numbers speak for themselves, so let's start there. Hiring the right virtual assistant can save your company up to 78% on operating costs per year – that's three times cheaper than a full-time employee! Plus, 91% of virtual employees have said they feel happier and more productive when having the flexibility to work from home. Saving money with increased levels of productivity from your team? This might seem too good to be true, but it's not.  
Before you rush to hire the first VA you can find, we can't stress enough the importance of taking the time to hire the right virtual assistant.  
To make it easier for you, we've listed the most important things to consider when you are looking to hire an assistant for your business.  
1. Hire from a reputable company  
There are plenty of people out there looking for a job who will do whatever it takes to convince you that you should hire them, no matter how inexperienced they are.  
Hiring from a reputable company saves on recruitment costs and lets the company do all the vetting for you. Companies like AVirtual who specialise in hiring VA's can perfectly match virtual assistants to your business, guaranteeing the right fit for your needs. You will have peace of mind knowing that you'll be saving time (and money) on reference checks, skills tests and that you'll have a perfectly suited virtual assistant to tackle all your daily tasks.  
2. Look for previous experience  
In order to hit the ground running, you need someone who is experienced. Look for the right assistant who has experience in your industry. This will save time in onboarding them because your assistant will understand the needs of your business.  
If you're struggling to find an assistant with previous experience in your industry, look for experience in a similar sector to yours. Skills can be transferred, so think of the critical skills that you need from your VA and which other industries might have similar requirements. Knowledge is power, you just have to know how to use it to your advantage.  
3. Know what you're looking for  
Before you attempt to tackle the task of hiring the right assistant, make sure you know exactly what you're looking for, so you don't waste both your time and the potential candidates.  
Make a list of the following: 
The exact tasks you need to be completed Identify the non-negotiable tasks.  

How many hours do you need them for?  

How you would like to be billed. Monthly? Weekly?  

Make two lists of required skills. One essential and one wish list. Do you need them to be strong in PowerPoint? Would customer service skills be a bonus?  

The other qualities you are looking for in a virtual assistant. This is more about soft skills and personality, which are also important as you need them to fit into the company culture.  
4. Be clear with your communication  
Be clear with your communication right off the bat. Set clear and realistic expectations of exactly what you're looking for to avoid any confusion. Cut straight to the chase on important things, like hourly rate and time zone, so that you can quickly weed out the underwhelming candidates.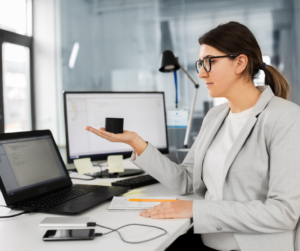 Before hiring the right assistant take into consideration their time zone and if they speak the same language. While your working hours don't have to be exactly the same, we strongly suggest an overlap so that you can communicate in real-time and keep each other updated.  
5. Look for someone with initiative  
Look for someone who takes initiative and adds value to your business. A virtual assistant that makes suggestions, asks questions and shows an eagerness to learn helps with aligning your business goals.
But how do you assess this when trying to hire the right VA? You can ask them carefully thought out behavioural questions, like:
Give them a potential problem and ask them how they would handle the situation. 

Ask them about a project they were most happy with and why.

Ask them to explain an opportunity that was given to them and how they handled it.

Ask them about the worst error they have made in their career and what they did to rectify it.
Someone with strong initiative may bring to light something you have never considered, which shows an invested interest in your business needs and growth potential.  
6. Look for strong time management  
It may seem obvious but it's something that is so often overlooked. While many candidates out there might want to be a VA, only the best ones are organised and have excellent time management skills.  
They should be able to meet a deadline with ease so that it doesn't have a knock-on effect on other areas of your business. Here are some ways to assess time management when hiring a VA:
 Aptitude tests

Present a task and see how long they take to complete it
Hiring a virtual assistant who is organised with strong multitasking skills reduces stress, improves efficiency and helps your business stay on schedule.  
7. Give it a bash but don't settle  
Don't settle for less than you deserve for your business. Do a trial run with your virtual assistant and have a clear written and signed contract that states that either party can terminate their agreement after a certain period. This protects both you and your virtual assistant and helps keep things in control if it doesn't work out.  
Hiring a VA is a smart way to scale your business. It gives you the help you need with flexibility and at a lower cost than a full-time employee would. It's predicted that by the end of this year 25% of digital workers will use virtual assistant services daily. But remember, this is a business decision, and you need to do your due diligence. If you don't, it could end up costing your business in the long run.  
And there you have it! Our top tips on how to hire the right virtual assistant. If you follow these tips, you'll be well equipped with a secret weapon you can use to grow your business and beat the competition.